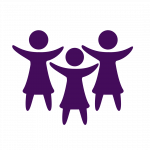 Annual Membership gives you full access to:
Each month we offer 3 virtual gatherings for our members to connect, share, learn and grow.
Mindset Mondays @ Noon
Wake Up to Wellness Wednesdays @ 8 am
Coffee & Conversation Thursdays @ 8 am
One Wednesday each month we present a topic chosen by our members. These engaging and informative webinars are presented by experts in their fields.
Each month we host a dinner event showcasing an industry expert presenting a topic related to either mindset, wellness, finances, or professional development. Our dinners feature healthy, delicious cuisine approved by our certified nutrition consultant. 
Each month we host a fun, get-to-know-each-other event fostering connection while learning a thing or two, in various Western New York locations. 
Our members-only Resource Hub is where you can
Connect with other members
Showcase your business
Manage your membership
Watch and listen to recorded events
Our partners have committed to providing their services to our annual SheCAN! Members at a discounted rate. 
Our coaches and mentors are experts in a variety of fields and subjects.  They are dedicated to helping our members achieve success in all aspects of life.  We always pre-screen our coaches and mentors so you know you're in good hands.  As an annual member, you're entitled to discounts on their services.
Meet and get to know them at our events.