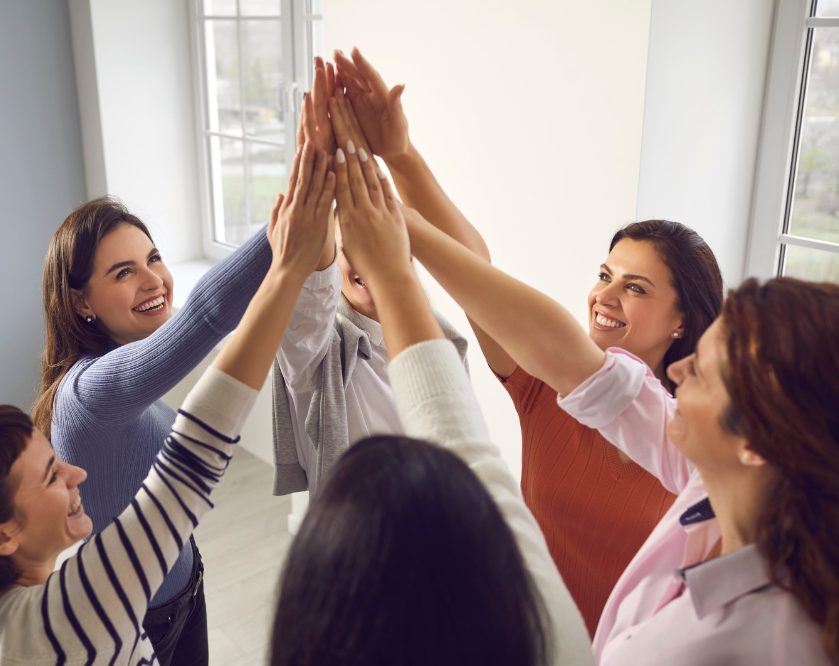 Connect with successful changemakers, elevate your business & recharge your dreams!
       November 6-8, 2022
           Doubletree Palm Beach Gardens
         Palm Beach Gardens, FL
An empowering and uplifting conference
for women to 
Grow, Thrive and Vibe!
Featuring Presentations by These Motivating Speakers
Dame Didi Wong
"Turn Every Stranger Into An Ally"
Heather DeSantis
Create Your Own Legacy: How to Use PR to Make an Impact on the World"
Saleema Vellani
"Three Secrets to Scaling Your Impact"
Peggy Sullivan
"From Busy to Badass!"
Madelyn Blair
"Resiliency Ignites Your Power"
Dame Didi Wong is an Award-Winning International Keynote Speaker, Angel Investor, Hollywood Film, TV Producer & Financier, Business and Speaking Coach, Best-Selling Author and Philanthropist. Powered by a love to teach and contribute to other's confidence, connection and cashflow, she's built The Yes Academy into a premier entrepreneurial mentorship program, helping with speaking, pitching, networking, PR, branding, marketing, and investing.
Heather is the founder of Publicity For Good. She's consumed with creating a social impact and gets to flex her PR muscles to make big changes in the world. She gets fired up by creating huge, cause-marketing public relations campaigns that get results for her clients.
Saleema Vellani is an award-winning serial entrepreneur, keynote speaker, adjunct professor, and the bestselling, 3x award-winning author of Innovation Starts With I. She is the Founder & CEO of Ripple Impact, which is a business accelerator and community that helps entrepreneurs grow their businesses and scale their platforms. She also teaches Design Thinking and Entrepreneurship at Johns Hopkins University and is a frequent guest lecturer at business schools.
As the founder of SheCAN!,Peggy is a strong advocate of empowering women professionals to succeed through supporting each other. She has received numerous awards and honors including the "2019 Woman in Leadership Award" (New York state), "Buffalo New York City Shaper", "Jewish Federation Woman on the Rise", "AM Buffalo Leadership Spotlight", "Jewish Federation Lion of Judah", "Mahler International Leadership Award" and "Blue Cross Blue Shield Best of Blue Award".
Madelyn Blair is a speaker, author, TV host and resilience consultant. She specializes in unlocking resilience for individuals and work teams needing to meet today's complex challenges with greater ease. Author of five books, her most recent book, Unlocked: Discover how to embrace the unexpected became #1 bestseller international. Her weekly TV show, Unlocked with Dr. Madelyn Blair, is shown on e360tv and YouTube. She was recently awarded Renaissance Leader of 2022 (second year running) by The Stone Register of New York.

 Sunday, November 6th
 6:30 pm Welcome and Awards Reception
The Veranda, Doubletree Palm Beach Gardens

Monday, November 7th
6:00-8:30 am Breakfast served in the hotel
8:30-9:00 am Summit Arrival & Check In
9:00am-9:15 am Welcome and Introductions
9:15-10:00am Presentation by Dame Didi Wong
"Turn Every Stranger into an Ally"
10:00-10:45 am Presentation by Heather DeSantis
"Create Your Own Legacy: How to Use PR
to Make an Impact in the World"
10:45-11:00 am Break
11:00-11:45 am Presentation by Saleema Vellani
"Innovation Starts With I"
11:45-1:00pm Networking Lunch
1:00-2:30 pm Workshop facilitated by Peggy Sullivan
"From Busy to Bad Ass"
2:30-3:00 pm Presentation by Madelyn Blair
"Resilience Ignites Your Power"
6:00 pm "Get to Know SheCAN!" Dinner
Florida Chapter Launch & Networking

Tuesday, November 8th
Optional AM Yoga
Transportation provided to and from the Hotel 
Departure 
Grow. Thrive. Find Your Vibe!
This retreat is a combination of celebration & connection, with motivating speaker presentations, hands on workshop and plenty of networking opportunities
Retreat Package Includes:
Sunday Night Welcome Reception
Monday Conference with dynamic and influential key note speakers :
Dame DiDi Wong, Saleema Vellani, Heather DeSantis and Madelyn Blair
Hands On Workshop facilitated by Peggy Sullivan
Get to Know SheCAN! Networking and Dinner
CONFERENCE TICKETS
LEVEL 1 - $ 795
$ 1200 with Hotel Room
Includes attendance at all 3 Retreat Events: Welcome Reception, Conference Session and Get to Know SheCAN! Dinner
Level 2 - $ 675
Ticket for Monday Conference Session
and Get to Know SheCAN! Dinner
Support Our Mission to Empower Women.  Become a Sponsor of the Champions Retreat!
       Celebrate, Connect, Find Motivation and Purpose!